So how do you get paint with a perfect surface? You sand, compound, and polish. It is not technically difficult. The hardest thing is finding the courage to pull the trigger on the sander after all the time and money you spent to get shiny new paint on there in the first place.....
What follows is my current favorite cut and buff process. There are variations in individual methods, and everyone's methods change as products develop. As a used car dealer I've been doing this sort of thing on and off for 30 years. Even so, this particular 3M system is new to me, and auto panels don't have rivet lines. More education and recreation! Refinements always welcome.
3M has a YouTube channel;
https://www.youtube.com/channel/UCN4...dxk7v8_8gh6iDw
Paint finishing playlist here:
https://www.youtube.com/watch?v=mkwF...ia290Luw-rO4p7
I'm cutting a light color so I can get away with a few less product steps. For me it's a 1500 grit Trizact disk, 3000 grit compound/white foam pad, and machine polish/black foam pad. Dark colors are far more sensitive to swirl marks and visible sanding scratches, so you'll perhaps you'll need 3000 and maybe even 5000 sanding before going to compound. My main focus in this thread is simply removing orange peel.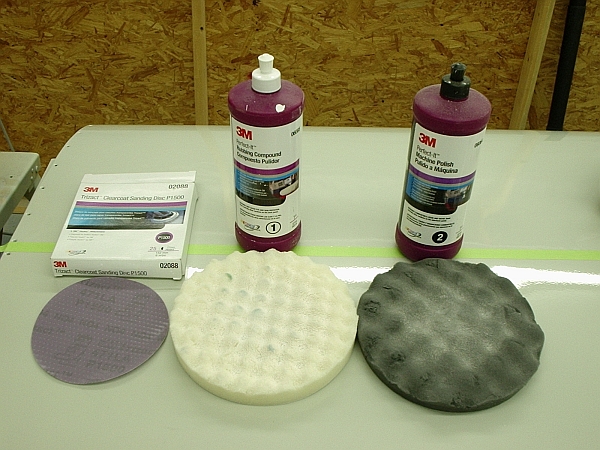 Gather (1) a bucket and a spray bottle, both with plain water, (2) a washrag and a few handfuls of drying rag or towels, (3) some 600 and 1500 grit wet-or-dry paper and assorted sanding blocks, and (4) some masking tape. The random orbital sander is equipped with the appropriate hook and loop pad, and a soft interface pad. Later you'll need a good buffer. Pro buffers run at 1500-2000 RPM. You'll need a hook and loop pad for the buffer too.
Work someplace with good overhead lighting, preferably fluorescent tube. The entire process revolves around seeing the contrast between shiny surface and dull surface. Dull is where you've sanded away a high spot. Shiny is a low spot not yet sanded. It looks like this....the band of shiny speckles you see below is the reflection of an overhead lighting tube. They're your indicator. When they're almost gone, you're done cutting. You must be able to see, so don't skimp on lighting.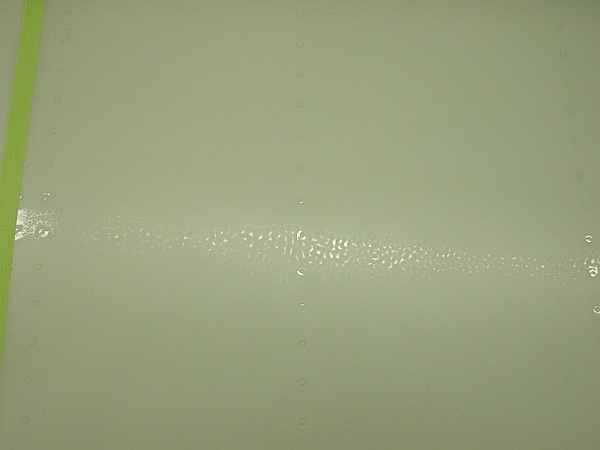 Start by taping all panel edges and screw lines. You can't accidentally cut through a taped edge. Well, you can, but you'll need to work at it: