| | |
| --- | --- |
| GalinHdz | 05-04-2020 03:28 PM |
---
Quote:
---
Originally Posted by Dugaru (Post 1427479)
Now I just need to figure out how to replace my old wig-wag circuit (which doesn't work with LEDs) without too much spelunking behind the panel. I'm getting WAY too old for panel spelunking.
---
Not a "Wig-Wag" but this simple circuit flashes my Baja S2Pro lights quite nicely. I first used them with halogen lights so the Squadron Pro should not be a problem.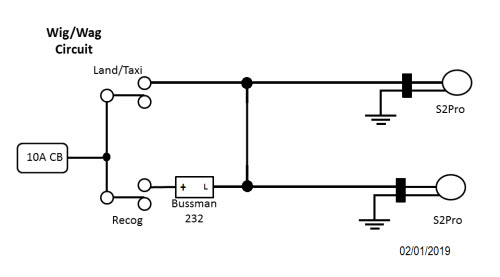 With this set up the landing/Taxi mode overrides the Recognition (flashing) mode.
:cool: