| | |
| --- | --- |
| WingsOnWheels | 08-25-2010 07:06 AM |
---
Show us the status of your 6/6A project!

I am starting this thread since we don't have one already for the -6. I would really like to see what stage other builders are at. There are all of 3-4 active RV-6 builders using Kitlog, so not a lot of reference material.
This thread may also act as a list of builders that can provide guidance to those coming after them. If you just completed a particular stage of the build, you are in a good position to provide advice to someone starting that stage.
Hopefully one of the Mods will see fit to make this a sticky.
To Kick things off:
I am currently working on the fuselage kit. I recently finished (well, mostly finished) riveting the left tailcone skin on and just yesterday started on the right side. All the fuselage skins have been fitted and drilled and most of the countersinking / dimpling of the structure is complete. Once I get these tailcone skins riveted, I just need to fit / drill the rudder pedal assembly and then I can rivet the side skins.
Left tailcone skin riveted (except the radius and overlap joints)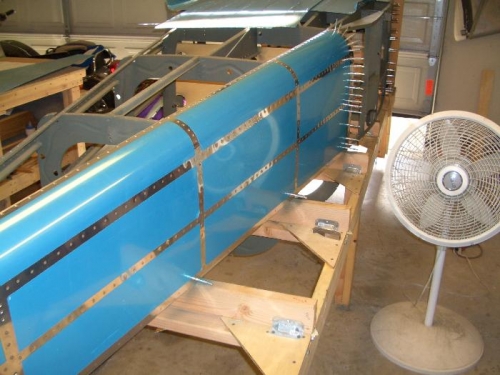 Right and bottom skins clecoed in place so I could mark the bottom skin for final triming of the aft edge. I had a slight misallignment of the skin (didn't have it strapped tight enough when drilled) causing a gap at the aft corner radius. I corrected the gap by straping and drilling out to #30. This worked just fine and still left me with ample egde distance. These are all dimpled for -4 rivets, not "oops" rivets.