Our formation group has established a bit of a tradition over the last few years, of meeting up late in the morning on January 1st and flying somewhere "interesting," usually for a spot of lunch.
This year was slightly different: Glenn volunteered to lead, and planned to take a 6-ship around Sydney Harbour.
It started with a formation briefing, six pilots and six passengers. Half a dozen RVs departing runway 11C at Bankstown in two elements of three, with yours truly leading the second element.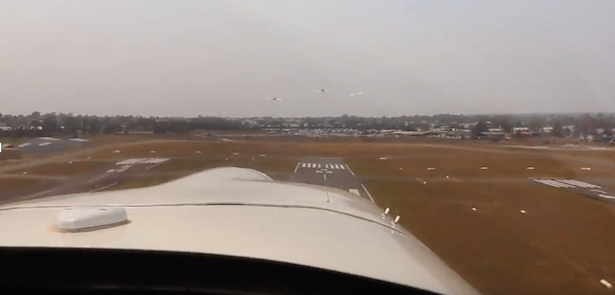 Joined up into 6-ship, with my 3-ship in close trail behind the first element (you can see them as the three aircraft above the end of the runway in the pic above, that's about 5 seconds of separation)
Video from #6's 360 camera during takeoff and rejoin:
https://www.youtube.com/watch?v=xMvZua5rmXc
We tracked North out of Bankstown, then turned towards the coast when we were abeam the Ba'hai Temple. Glenn, formation leader for the day, negotiated clearances with Sydney Approach for entry into the Harbour.
"Victor November Zulu Flight, cleared to track from present position direct to the Harbour Bridge for Sydney Harbor Scenic One."
Yes! The stars aligned.
Several minutes later: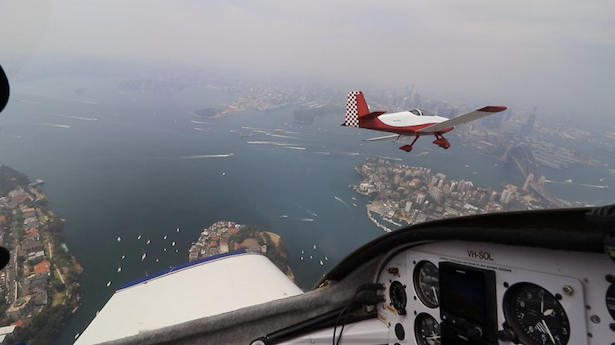 Some stills from #6 (I'm #4, closest to the camera, centre of the shot):
Anne-Marie snapping a quick shot of the Opera House as we commence the first of two left orbits over the Harbour:
The Inner Harbour, through the gloom of the bushfire smoke. Boats below, sailing boringly, having no idea how much fun they aren't having:
Airplane selfie:
Handheld video from Don, my passenger, with cockpit audio. Starts at Long Reef, North of Manly.
https://www.youtube.com/watch?v=P3pJSj37YJc
There were so many of us wanting to land at the same time that Bankstown Tower split us into two groups of three on two runways. We landed in triplets in "vic" formation, just like our takeoff. Video also shot by Don:
https://www.youtube.com/watch?v=sJbLKRyVkZQ
I guarantee that nobody else commenced 2020 like we did. :-)
To complete yesterday's mission, we needed a lot of things to work well. Sydney Airport can't use either of the 34 runways for airliners while people like us are doing scenic orbits in the harbour because it's too close for separation assurance, so we needed a quiet period with a southerly wind, and indulgent cooperation from ATC to make room for us; and it needed to have an easterly component because anything else would have blown enough wildfire smoke over the city to kill visibility (which, you'll see, was already bad enough, and which deteriorated after lunch). Everything just happened to work perfectly for us. The only thing that took the shine off it was the smoke, but that's been near-constant for two months now.
How did you see in the new year?
- mark