I have been a little skeptical about the strength of the NAS679A6 nuts that Van's supplies for the main landing gear bolts on the RV-8. So, I decided to do some tests of various different nuts to see what the different strengths are.
We wanted to simulate the tension load that gets put on the bolt and nut when the landing gear gets a fore-and-aft load, which puts a twisting moment on the gear which tries to pry apart the mounting saddle ( U803) and puts the bolt and nut in tension.
I will describe the results here, then describe the test procedure in a second post.
So, we tested four different nut types, as follows:
MS21042-6 low profile nuts with 7/16 wrench flats
NAS679A6 low profile nuts ( stock style) with 9/16 wrench flats
MS21045-6 full-height metal lock nuts with 9/16 wrench flats
NAS1804-6 mid-height nuts with 12-point 7/16 wrench flats
Below is a picture that shows each of the four nuts, and the cut-open failed nuts. The legend shows the breaking strength that we found. All the nuts failed by some or all of the threads stripping. The NAS679 tended to have a couple of threads un-stripped, as if they had radially stretched enough to leap-frog over the mating thread on the bolt. The MS21045 showed significant swelling of the base of the hex, so that a wrench would no longer fit on the flats. This was also true to a lesser extent with the MS21042.
In summary, the strengths were as follows:
MS21042-6 11,600 lb
NAS679A6 12,500 lb
MS21045-6 15,800 lb
NAS1804-6 16,200 lb
The expected strength of the 3/8-24 NAS close-tol bolts is about 14,000 lb. so only the last two types of nuts are capable of developing the full tensile strength of the bolts. We used Unbrako socket-head bolts (better than grade 8) to be sure that the nuts broke and not the bolts.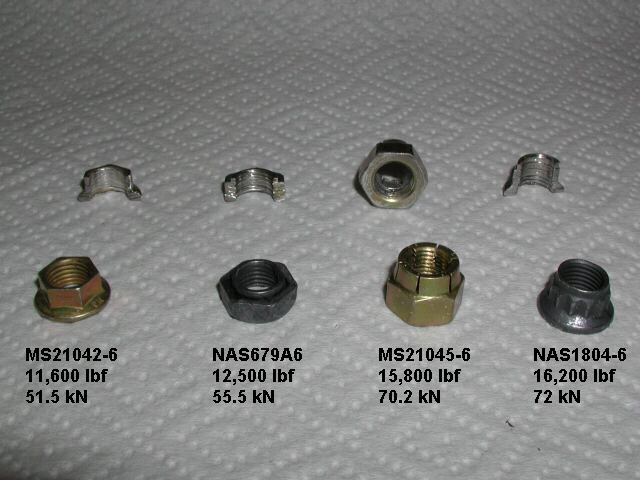 here's the link too:
http://www.hpaircraft.net/rv8/nut_test2b.jpg
A couple of other builders in other threads have mentioned using the MS21042 nuts in place of the ones Van's supplies. An advantage is that they take a smaller size socket which helps get a socket on them in the gear tower. But as you can see, they are not as strong. The same benefit of smaller socket can be gained using the high strength NAS1804 nuts. You can order them from GAHco, they are pretty pricey but worth it for the peace of mind in my view.